Why is an 'iPod killer' the holy grail of portable consumer electronics right now? I've had one since Q4 2k5. It's called the Sony PSP. Seriously. So many people whine about how it doesn't have any good games... Guess what? Learn to 'wakaru the nihongo', my friend. All the American games suck.
DS? What's that? Oh yeah. That little handheld game console. It sure is a cute little thing. Don't get me wrong, I wouldn't mind having one of those as well; Nintendo's core franchise games can be fun... But I doubt it'd get as much use as my PSP.
When I leave the apartment, my PSP comes with me, attached to my belt in its Hori Street Style variable case. With at the very least, a copy of Lumines, since it's the most 'any time' game I have. It's also packed with my flavor-of-the-week in music, some manga, this week's raws for all the anime I'm watching, and maybe even a book or two. I also use it to download and listen to podcasts, and to read my favorite webcomics and sites and news.
Now, the iPod fans will be like "But it doesn't have any storage!" Sure, currently you can only have up to 4gb of directly-accessible space... But that's going to change soon. In the meantime, there's stuff like a battery-powered 40gb HD enclosure that can hook up to the USB port and send stuff over to your card. Besides, how much music do you really NEED to be able to access at once? I typically don't listen to more than 1-2 different playlists over the course of a week, and maybe a few random songs.
And the iPod Video? What the hell?! The iPod is about the SIZE of the PSP screen. I don't get it. Watching videos on an iPod Video just because they gave it a screen, is like porting Adobe Photoshop to the DS just because it has a touchscreen and stylus.
I've got no problems with these devices. But when fanboyism kicks in and overrides common sense and obviousness of utility...that's just plain friggin stupid.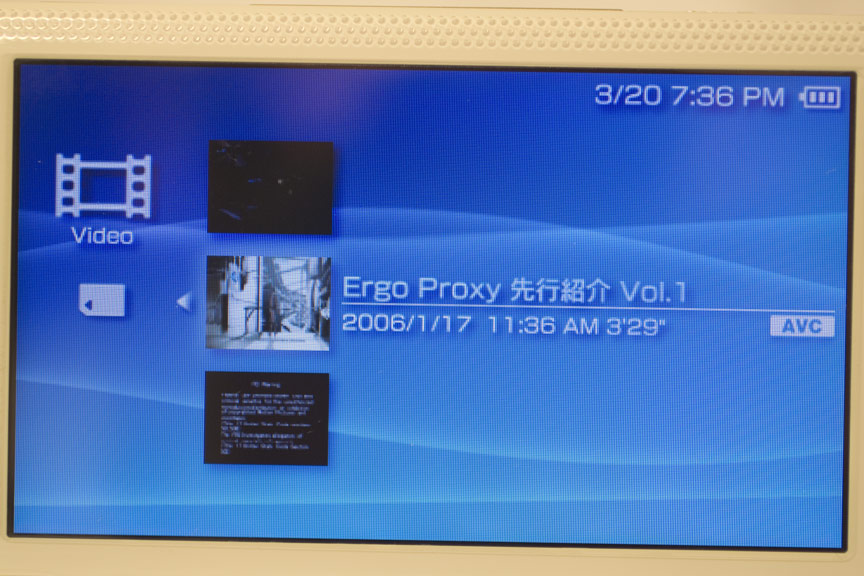 Click to enlarge the picture, more coming later.
Permalink