10/02/08 @ 05:57:28 pm, Categories:
Life of Baka
, 275 words, 866 views
Well, I've had some stuff going on lately. Well, not exactly, more like I've been moving through a lot of different stuff…
Paid for a month of EVE-Online again, getting back into that. I really missed it, and now it's even more awesome.
Code Geass is over. I am satisfied with the resolution of the series. Unlike some whiners, I don't want my two years back.
I rediscovered something from my childhood that I had always wanted, and unsurprisingly…it's made in Japan. (More on that in another post.)
Haven't done much drawing the last week or two…my desk is a disaster and I'm looking for a better reason to clear it off.
The demo of the Disgaea spinoff 'Prinny: Ore ga Shujinkou de Iinsuka?' is out for PSP. It's only one level, but I enjoyed it immensely, ten or fifteen times.
I've been playing arcade games a lot the last week or so. Getting back into the groove of Street Fighter III 3rd Strike.
I had some pretty nasty allergies last week, and just as they went away, I got a bad cold. I'm coming out the other side, finally, so I feel a bit less sub-human now. No sinus pressure or chest/throat stuff… Just clearing stuff out now. *cough*
I found out that MAME can record gameplay videos as lossless .MNG files, which you can then split into .PNG frames, and load into VirtualDub as an image sequence. Unfortunately, it doesn't record sound.
I recorded an Ibuki vs. Chun-Li match I had. Video (640x480 no audio 15mb .MKV)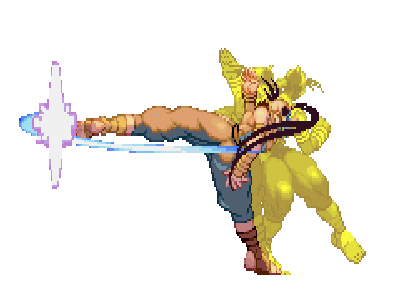 Ibuki: The Ultimate Awesomely Badass Ninja Girl™
Permalink